Everyone wants to be a footballer. But the truth is, even those lucky few who make that dream a reality can only play football for so long. The time comes when you need to retire and find another job.
Many go on to become pundits, coaches or even managers, but others decide to end the football chapter of their lives completely. So here is a list of players that hung up their boots and gave something different a go. Note that this list starts out with fairly normal jobs, but very quickly escalates into unusual occupations.
1. Lee Bowyer – Fisherman in France
Lee Bowyer had a solid football career, retiring in 2012 after his final season, spent with Ipswich Town. Throughout his life Lee turned to fishing in tough times and after making the big decision to retire, it seemed only natural for him to put down his boots and pick up his fishing rod. Long story short, Bowyer now owns a carp fishing lake in France. Très Bien, Lee!

2. Ken Monkou – Owns a Pancake House
You may not remember Ken, but he was a solid defender that played for English clubs such as Southampton and Chelsea. However, in 2001, he retired from the beautiful game and took the natural next step to open a pancake house in Rotterdam. To explain, Ken visited this pancake house as a teenager and after retiring noticed that it was up for sale and snapped it up. Additionally, Ken is involved with Chelsea TV and makes regular appearances on Dutch media.
3. Thomas Gravesen – Poker Pro
Gravesen spent the majority of his career in the Everton midfield but also had stints at Real Madrid and Celtic. However, football clearly wasn't paying his bills, so Thomas decided to retire early and become a professional poker player in Las Vegas. This turned out to be a wise move as he reportedly has a net worth that peaked at more than £80 million. Not too shabby.
4. Arjan de Zeeuw – Dutch Detective
The Dutch defender played for Barnsley, Wigan and Portsmouth, amongst other clubs, before retiring in 2009. Since his retirement, Arjan has moved back to the Netherlands and become a detective, stating that – "It was never my intention to put my feet up after playing – I like to use my brain a little bit." A transition from defending the goal to defending the streets of the Netherlands from crime, makes sense really.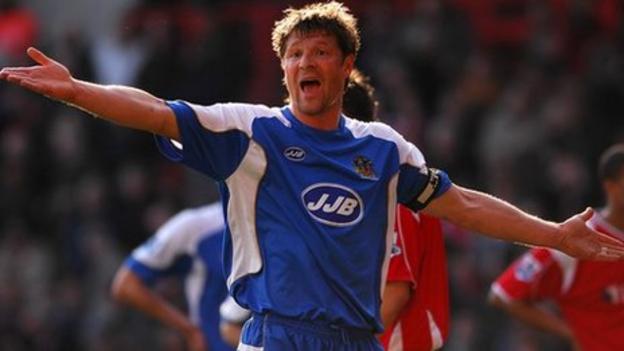 5. Frank Leboeuf – From Football to Films
The French World Cup winner clearly had a successful football career, but some people can never have enough and Frank fancied himself as an actor too. So he hung up his boots and headed to LA to learn the craft. He has done an annoyingly good job at it too, landing roles in various big productions and even a cameo in the Oscar-nominated film, 'The Theory of Everything'.
6. Fabien Barthez – Motorsport
What is it with French World Cup winners, I suppose once you've won the most desirable trophy in football there's not much more to achieve. Barthez retired in 2007 and turned his attention to motorsport, a passion of his. Once again, a successful footballer turned out to be great at everything and Fabien went on to win a bunch more medals and trophies to add to his collection.
7. Tim Wiese – 'The Machine'
In 2014, the 34 year-old German goalkeeper retired from the sport, took off his gloves and hit the gym in an effort to become a professional wrestler. This change in career required a change in name and Tim Wiese became 'The Machine'. Tim, or should I say 'The Machine', went on to win his debut fight and the transition was complete.